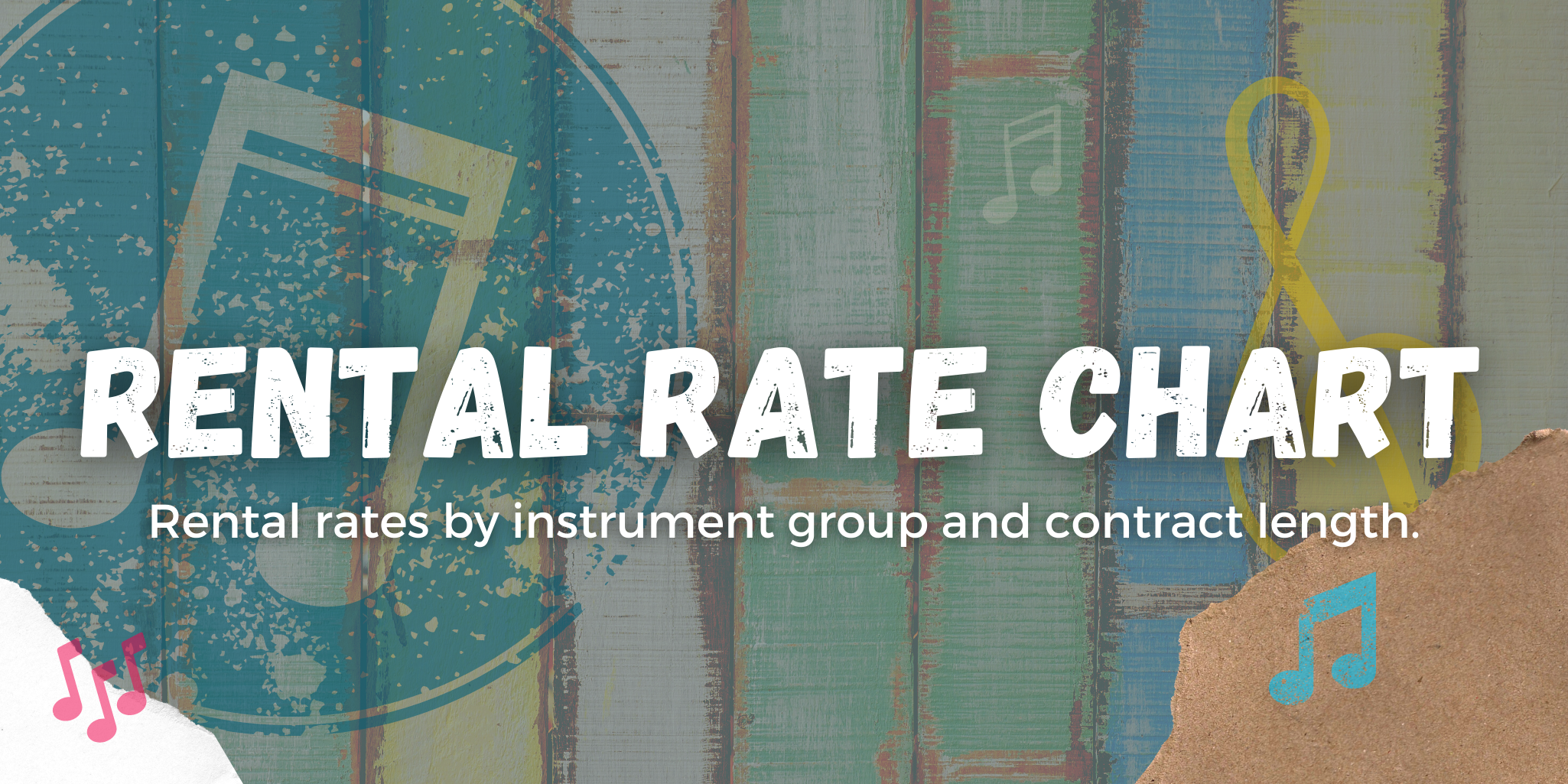 Whether you're renting an instrument for the first time, or renewing an existing contract, rental rates by instrument group can be found below.
All rates are paid in advance. For new rentals, a 3-month minimum initial rental is required; for renewals, there is a 1-month renewal minimum.

The 9-month initial and renewal rates are discounted. All rent and tax portions of rental payments are considered as credit toward purchase of the instrument on rent (see

Rental Agreement

).

Students just starting out should look at Group One instruments.
Group One
Flute - Clarinet - Trumpet - Trombones - Violin - Viola - Snare/Bell Kit
| | | |
| --- | --- | --- |
| Initial Rentals | 3 months | 9 months |
| Rent | $85.44 | $170.88 |
| Tax | $7.90 | $15.81 |
| Service Policy | $0.00 | $34.18 |
| Total | $93.34 | $220.86 |
| | | |
| Renewals | 1 month | 9 months |
| Rent | $28.48 | $170.88 |
| Tax | $2.63 | $15.81 |
| Service Policy | $8.54 | $51.27 |
| Total | $39.66 | $237.96 |
Group Two
Alto Sax - Student Cello - Assorted Intermediate Instruments
| | | |
| --- | --- | --- |
| Initial Rentals | 3 months | 9 months |
| Rent | $139.23 | $278.46 |
| Tax | $12.88 | $25.76 |
| Service Policy | $0.00 | $55.69 |
| Total | $152.11 | $359.91 |
| | | |
| | | |
| Renewals | 1 month | 9 months |
| Rent | $46.41 | $278.46 |
| Tax | $4.29 | $25.76 |
| Service Policy | $13.92 | $83.56 |
| Total | $64.63 | $387.78 |
Group Three
Step-Up Cello - Tenor Sax - Oboe - Baritone Horn - Assorted Intermediate Instruments
| | | |
| --- | --- | --- |
| Initial Rentals | 3 months | 9 months |
| Rent | $203.34 | $406.68 |
| Tax | $18.81 | $37.62 |
| Service Policy | $0.00 | $81.34 |
| Total | $222.15 | $525.63 |
| | | |
| | | |
| Renewals | 1 month | 9 months |
| Rent | $67.78 | $406.68 |
| Tax | $6.27 | $37.62 |
| Service Policy | $20.33 | $121.98 |
| Total | $94.38 | $566.28 |
Group Four
French Horn - Soprano Sax - Assorted "Step Up" Instruments
| | | |
| --- | --- | --- |
| Initial Rentals | 3 months | 9 months |
| Rent | $259.44 | $518.88 |
| Tax | $24.00 | $48.00 |
| Service Policy | $0.00 | $103.78 |
| Total | $282.79 | $670.65 |
| | | |
| | | |
| Renewals | 1 month | 9 months |
| Rent | $86.48 | $518.88 |
| Tax | $8.00 | $48.00 |
| Service Policy | $25.94 | $155.64 |
| Total | $120.42 | $722.52 |
Group Five
Baritone Sax - Selected Instruments
| | | |
| --- | --- | --- |
| Initial Rentals | 3 months | 9 months |
| Rent | $397.35 | $794.70 |
| Tax | $36.75 | $73.51 |
| Service Policy | $0.00 | $158.94 |
| Total | $434.10 | $1,027.15 |
| | | |
| | | |
| Renewals | 1 month | 9 months |
| Rent | $132.45 | $794.70 |
| Tax | $12.25 | $73.51 |
| Service Policy | $39.74 | $238.43 |
| Total | $184.44 | $1,106.64 |
Group Six
Selected Instruments
| | | |
| --- | --- | --- |
| Initial Rentals | 3 months | 9 months |
| Rent | $509.19 | $1,018.38 |
| Tax | $47.10 | $94.20 |
| Service Policy | $0.00 | $203.68 |
| Total | $556.29 | $1,316.26 |
| | | |
| | | |
| Renewals | 1 month | 9 months |
| Rent | $169.73 | $1,018.38 |
| Tax | $15.70 | $94.20 |
| Service Policy | $50.92 | $305.52 |
| Total | $236.35 | $1,418.10 |
---