We provide comprehensive instrument repair services for brass, woodwind, fretted instruments and orchestral strings, along with keyboards, amplifiers, electronics and most any other instrument.

How it Works
Simply bring your instrument in during regular business hours for a FREE consultation with one of our expert technicians. We will provide an honest evaluation of what's needed, an estimate for labor and replacement parts (if required), and a work completion date. Our goal is to get you playing again as quickly as possible!

Whether you're a student, a professional player, or a school in need of fleet maintenance, our expert band and orchestra repair technicians are here to help.

Meet our Expert Technicians
Ivan Rondon Brass and Woodwind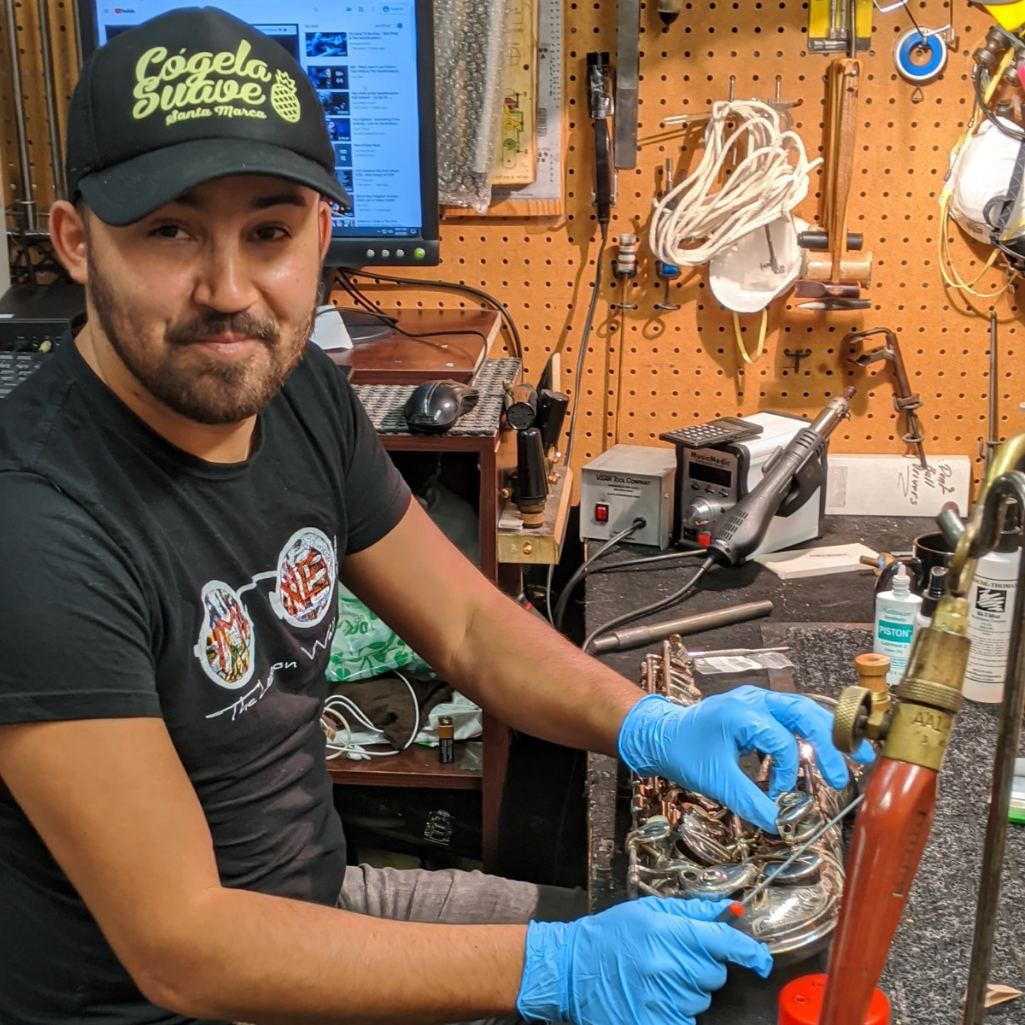 Having worked as a brass and woodwind repair technician for 10 years, and as shop manager at The Magic Flute for the past 8, Ivan is here to assist with any brass and woodwind repair needs you may have—from basic maintenance to cosmetic repairs to the most detailed and intricate restoration and everything in between!
Prior to joining The Magic Flute Ivan managed the repair shop at Don Banks Music and earned a degree in Band Instrument Repair Technology, and gained two years of field experience, from Renton Technical College and continues to hone his skills by attending NABIRT (National Association of Band Instrument Repair Technicians) conferences and clinics.
Ivan understands the importance of instrument maintenance to ensure best playability AND to prolong the life of the instrument. Over the years he has developed and implemented procedures that provide efficient and accurate diagnostics, on our full range of instruments, to determine the best way to achieve the highest quality result, at the most competitive rate possible. As with all of our technicians, Ivan will review his recommended approach and provide you with an estimate for approval before starting work.
Ivan is a professional flute, clarinet, guitar and Latin percussionist who has performed regularly in and around the Bay Area, and beyond. Locally he's performed at venues such as The Independent, The New Parish, The Chapel, SF Jazz, The Blue Note, The Great American Music Hall and others. He has collaborated on multiple projects, leading some of them, with Oskar Ly & Rumbalu, Calmao, Barrio Manouche and Pasto Seco Banda.
---
Chaco Amazè Brass and Woodwind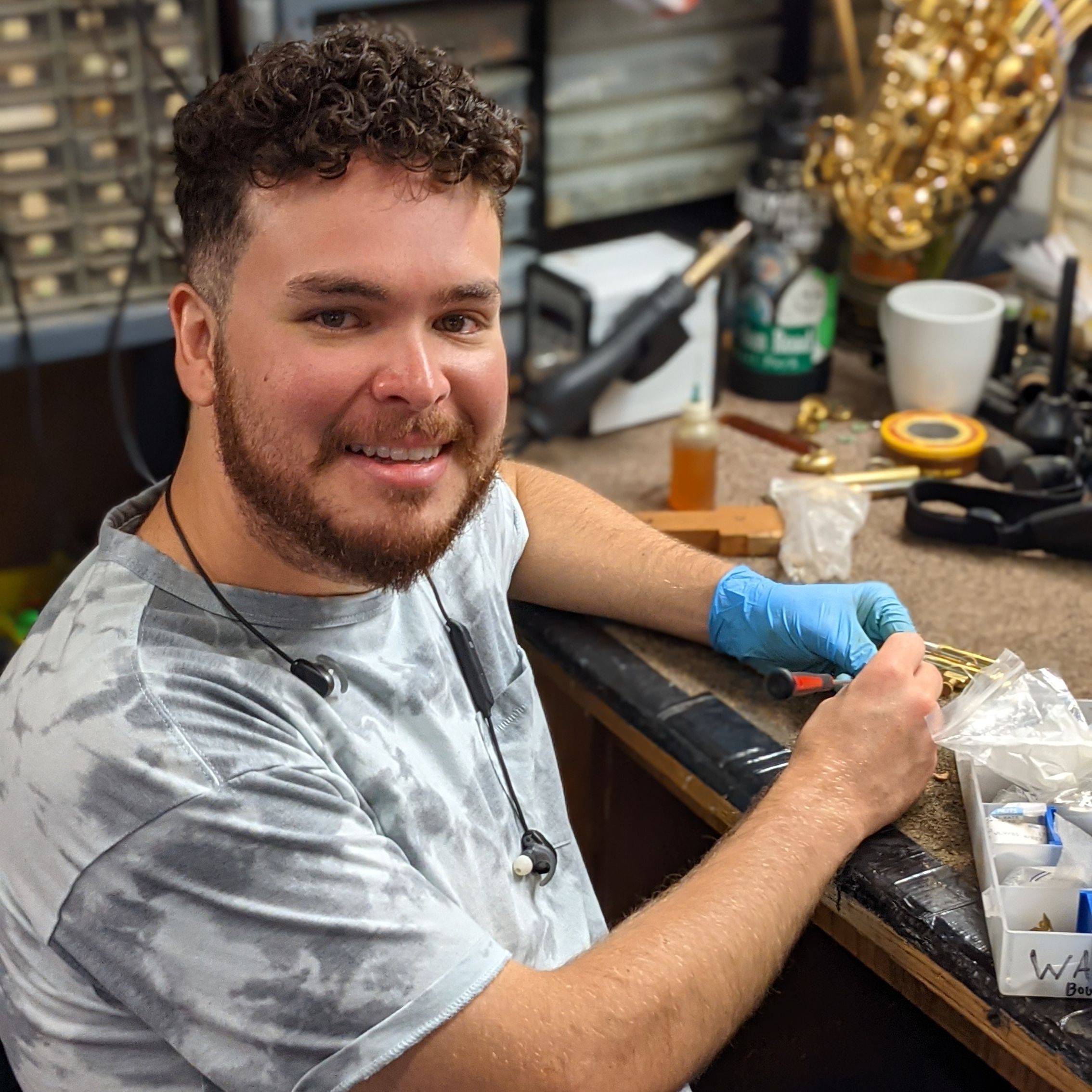 As the newest member of the Repair Shop team, Chaco provides much needed bandwidth (no pun intended), especially during the school year. Whether your brass instrument needs cleaning, or dents removed from a valve or the bell, or simply needs a slide realignment, Chaco is an expert. If you're a woodwind player and need pad or spring replacement, cleaning or mechanisms need regulating, he's here for you.
Chaco is a multi-talented musician and singer who plays saxophone, flute, clarinet, piano and guitar. When performing, he plays in Latin, funk, blues and big bands, jazz combos and occasionally with a rock group, all around the Bay Area. He is often found consulting with customers in the store, helping to assess their instruments as well as providing helpful advice on how to get the best sound out of them.
---
Mark Culbertson Orchestral Strings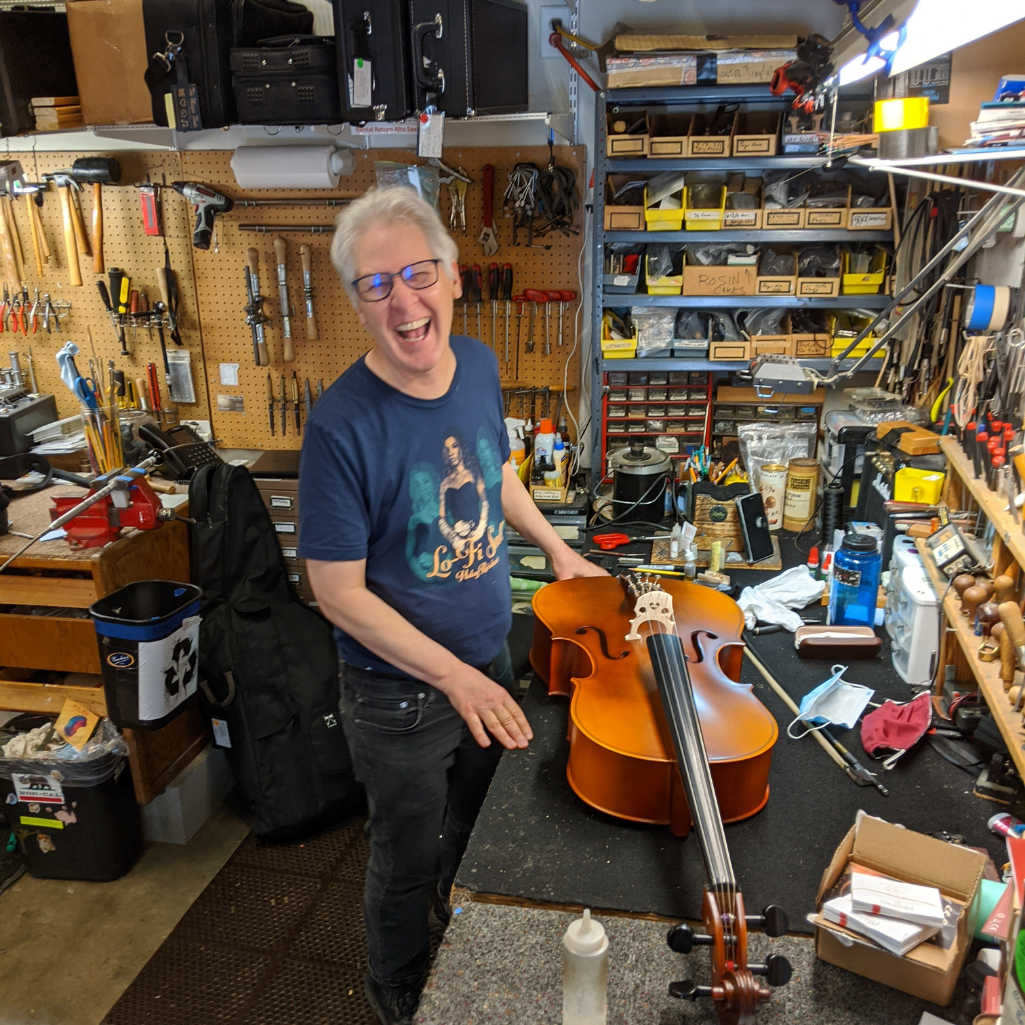 Mark is one accomplished guy. He plays double bass and electric bass, and when he's not busy repairing orchestral strings—which he's been doing at The Magic Flute since 2007, he's teaching, performing, or learning to play the alto saxophone.
Mark likes working on orchestral strings because he knows that a well-maintained instrument plays better, freeing the musician to concentrate fully on their practice and performance. In his technician role, he has seen it all, but most of his work falls into the following requests: simple restrings, gluing and clamping seams and cracks, bridge replacement, sound post re-sets, fingerboard re-glues and neck resets, along with set-ups, adjustments and basic cleaning. After a quick consult, Mark will share his suggested approach and provide you with an estimate, for time and materials, for your approval before starting work.
Mark teaches bass and jazz at Dominican University, is a lecturer at College of Marin and Marin Waldorf, and holds private bass lessons. And, he performs locally with his wife Carol Adee on the flute and cello, whenever possible.
---
Christian Dean Guitar, Bass, Keyboards, Amplifiers and Electronics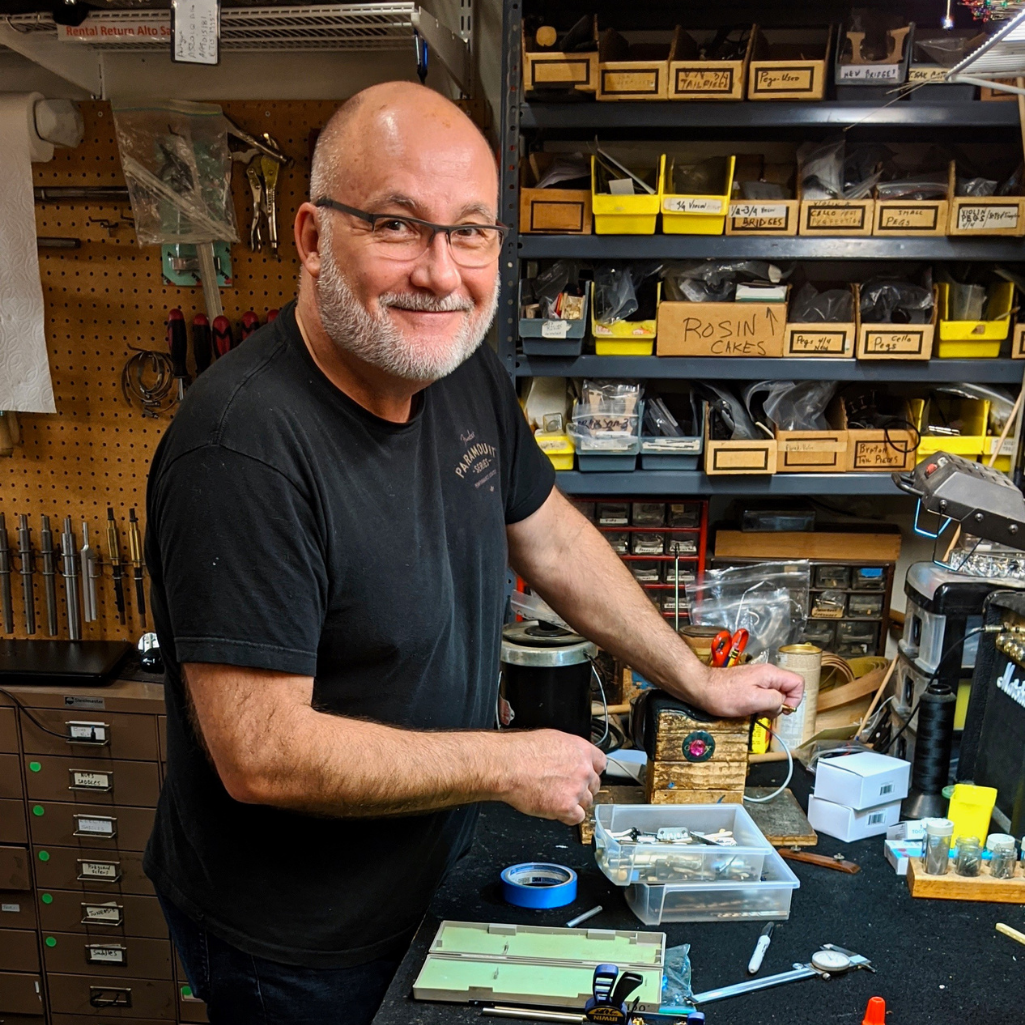 Christian is a man of many talents...he's MacGyver incarnate. As a guitar player, he started doing repair work at The Magic Flute when he was still in high school (Go Terra Linda Trojans!), and as owner of the store, he continues.
Whether you need a simple restring on your guitar, a set-up, electronics installed or repaired, or a full re-fret, Christian will take care of it for you. In fact, he has a well-earned reputation for doing the finest guitar set-ups around!
But he doesn't stop there, over the years Christian has repaired a variety of instruments including harps, Persian Tars, dulcimers, auto harps djembes, digital pianos, accordions, melodicas, etc., offering customers technical support on ANY instrument purchased in our store.
Christian still loves playing the guitar and singing and spending time in the shop with his cool and talented compadres.
---
Avery Okamura Guitar and Bass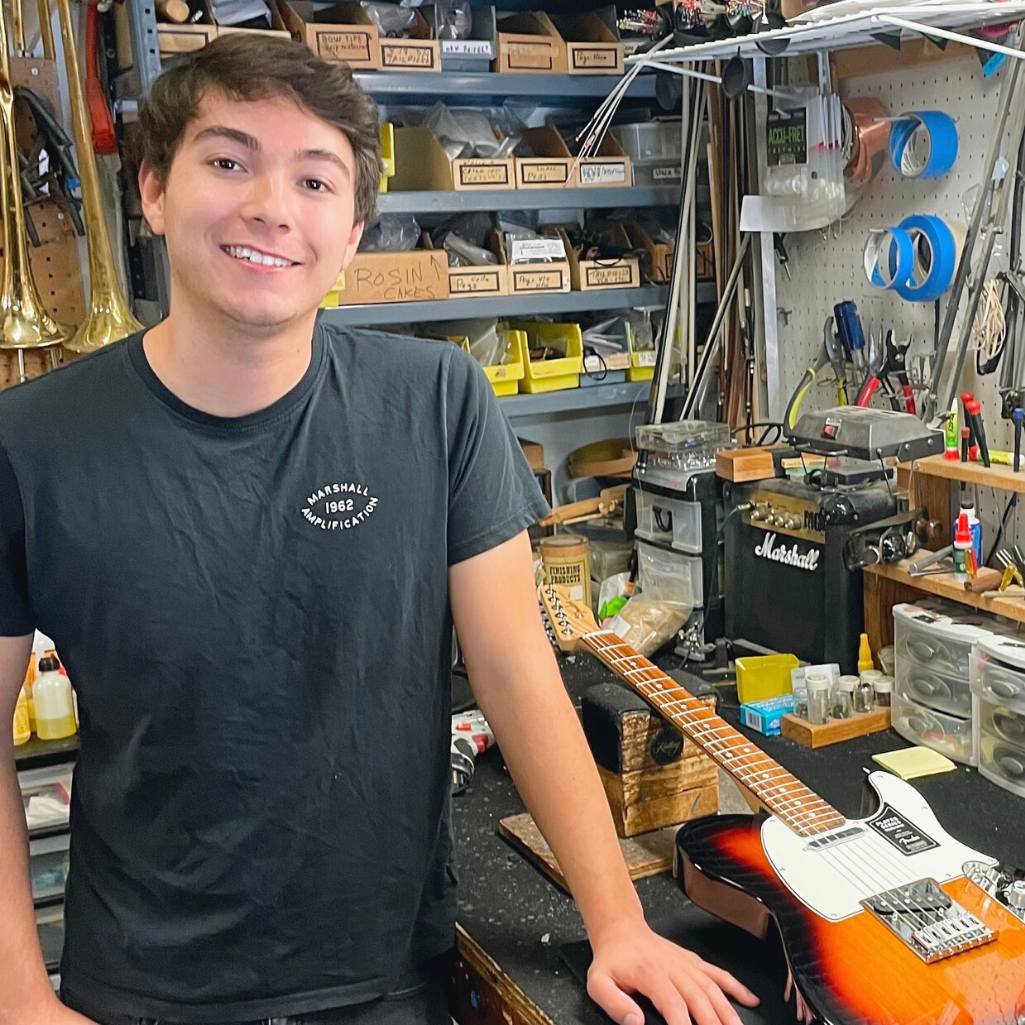 As a guitar player, performer and teacher, Avery has been restringing, conditioning fret boards, doing set-ups, and full-body polishing on guitars and basses for many years. In addition to his sales role at The Magic Flute, for the past two years he has assisted many of his customers with their instrument maintenance.
Avery likes to get to know his customers' playing style and experience, and how new they are to the instrument, as that affects the action and how high or low they may want or need it. When setting up a guitar, it's important to consider the player.
---
TESTIMONIALS
What Our Customers Say
"Their repair department is fabulous...I've always been impressed by the quality of work. The pricing is also very transparent; I can always expect a call to review the necessary repairs and to offer a quote prior to starting the work. I can't believe how lucky I am to have such a quality business right in my neighborhood." — Nathaniel C.
"Excellent service! I've brought in a guitar, violin, and clarinet for repairs. Every visit, the staff has been extremely knowledgeable and the prices reasonable. I love supporting a local business like this one." — Kirsten N.
"The Magic Flute is the only place I'd take an instrument for service and repair. They have been taking care of my flutes for decades. They are friendly, more than competent and reasonably priced. Now, with the new technology (text communications), staying informed about the progress of my instrument repair is easier than ever." — Cordie T.
"Christian (the owner) and his entire staff are top notch. I have purchased a couple of guitars (a vintage gretsch and a bass for my young son), and have had Christian work on a number of my guitars for pickup swaps, pickup selector re-wiring, and acoustic pickup install. He is a dream to work with—responsive, communicative and he does top-notch work. And his staff, particularly Mike, are all super great and knowledgeable people. I highly recommend the Magic Flute. Love them! " — Mark N.
"I took a guitar in for a timely tune-up and after only a few days, received a much improved instrument at a reasonable price. Nice staff coupled with a good selection and updated technology kept me informed of the status with text updates." — Joann.
"I was a first time customer and came in to get a quote to repair my dad's old Alto Sax. Will and his team went above and beyond to help me, getting the tools I needed in the short-term, with a reasonable quote for a future repair. The team is friendly, patient and offers high customer service. I highly recommend this store for all your musical needs. 5 stars! Thanks again Will!!" — Laurel D.